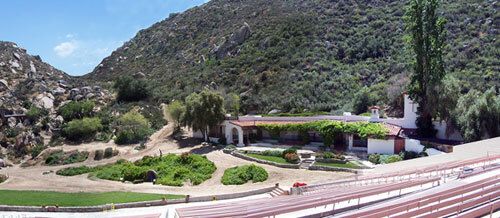 Located on 160 acres in the south hills of Hemet, California, the Ramona Bowl Amphitheatre is home to RAMONA.

The amphitheatre with its acoustical attributes and beautiful mountain views was discovered in 1922 by playwright Garnet Holme. He found the perfect location to produce his work and in 1923 people came from miles around to see the first production of RAMONA in what is now known as the Ramona Bowl Amphitheatre.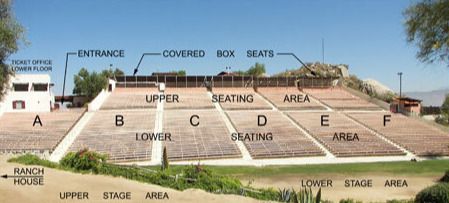 The 5,400 seat capacity is made up of tiered cement bench seats with wooden backs accessible by stairs. Handicapped and wheelchair seating is available with minimal or no steps involved.

The seating area is divided into 3 sections. The main entrance is between the lower and upper levels. Lower level seats offer a closer view with more visible facial expressions. Upper level seats offer a better panoramic view. At the top are the shaded box seats. While this area requires climbing 30 steps, it has shade cloth, padded chairs and offers waitress service.

There is not a bad seat in the house!